We're Excited to See You at Pack Expo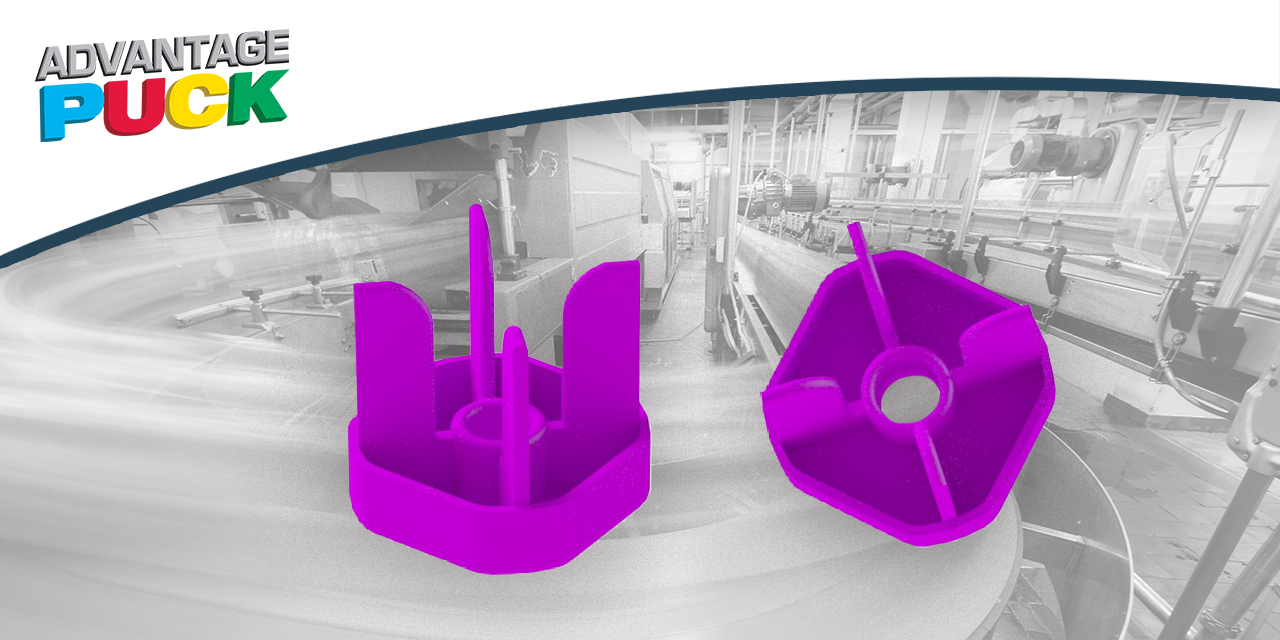 See Advantage Puck at Booth #6330
At Pack Expo 2022 Advantage Puck Technologies (APT) will be demonstrating their injection-molded carriers to a wide variety of visitors. Pucks can be known by a variety of names, including huggers and carriers, and these user-friendly manufacturing accessories aid in stabilizing and standardizing small or large products. Your unstable or variably-sized products can all be handled on the same line using custom pucks, which work to standardize fill height, minimize line changeover needs, and eliminate costly line downtime.
APT also knows your product's packaging is vital to maintain shelf appeal, which is where our pucks come in to save the day. While our pucks aid in the labeling, capping, filling, assembling, and date-coding processes, they also are vital to prevent the marring of product packaging. In addition, preventing marring can oftentimes correspond with reduced costly product waste for your company, as well as minimized clean-up.
APT will be demonstrating several types of pucks at Pack Expo International, but our custom material handling solutions don't end with those you may have time to see!
Advantage Puck will be displaying:
Soft Center Pucks (used to reduce package spinning and protect high-end packaging)
Labeling Pucks (available with fixed or inserted goal posts designs to firmly grip products, while respecting custom label shapes and sizes)
QUIETPUCK® (this patented puck reduces noise levels up to 13 percent)
Dual Product Pucks (a custom center in this puck accommodates a line with multiple products, eliminating line changeover needs)
Aerosol Pucks (this puck is offered in more than 150 different sizes to accommodate canned aerosol products throughout transport, filling, leak testing, and assembly)
Transport Pucks (ideal solution to transporting, capping, assembling, or date coding almost any product)
Machined Pucks (the solution for small-quantity puck orders, projects with extreme detail, or products which require a heavier puck to prevent spillage)
Tube Filling Pucks (designed to accommodate both Nordson fluid dispensers and Kalix dispensers. These pucks are available in 40 sizes to serve a large variety of Nordson dispensing and Kalix dispensing customers.)
RFID Pucks (these custom solutions allow companies to seamlessly record custom or proprietary information while filling, capping, and labeling products)
Feel Free to Stop by Advantage Puck at Pack Expo International during the following show hours –
Sunday, October 23rd: 9:00 AM to 5:00 PM
Monday, October 24th: 9:00 AM – 5:00 PM
Tuesday, October 25th: 9:00 AM – 5:00 PM
Wednesday, October 26th: 9:00 AM – 3:00 PM
Going to be at Pack Expo International?
We'd love to meet with you.
---
Fill out the form below in order to schedule an on-site meeting to discuss your puck and product handling needs.
---