Your Full Service Puck Supplier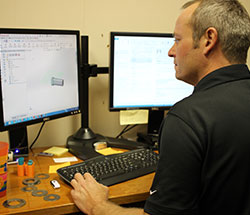 Advantage Puck specializes in the design and manufacture of injection molded carriers, commonly referred to as pucks or product huggers. When customers partner with Advantage Puck they have access to a full-service puck supplier equipped with the most innovative technologies, 3-D designs, FDM prototypes, fast turnaround, competitive pricing, and the best quality pucks made from virgin resins.
Advantage Puck is comprised of a friendly, service-minded team of experienced engineers and manufacturing personnel ready to ensure your puck packaging and manufacturing process moves flawlessly. Each engineer is dedicated to providing the full-service design and production of injection-molded products and prototypes. Advantage Puck delivers each project they make from concept to production with minimal lead time using the latest SolidWorks® software.
More than just product huggers, Advantage Puck equips each customer with custom production line equipment as well. Advantage Puck is part of the Simplimatic Engineering Holdings family of companies which includes Simplimatic Automation, MultiFlex, Inc., and Dramco Machine Technologies, and has the resources available to create carriers which work smoothly within their complete lineup of material handling and robotic automation products.
This respected family of companies provide material handling, automation systems, and robotics that are used in a variety of industries for packaging and assembly customers worldwide. To learn more about Advantage Puck or to request a quote for your new custom carrier project, contact us today at 814.664.4810 or at Sales@AdvantagePuck.com.